retour à l'agenda
4th Waseda Brussels Conference – New Technologies and Regulation in Japan and Europe
JurisLab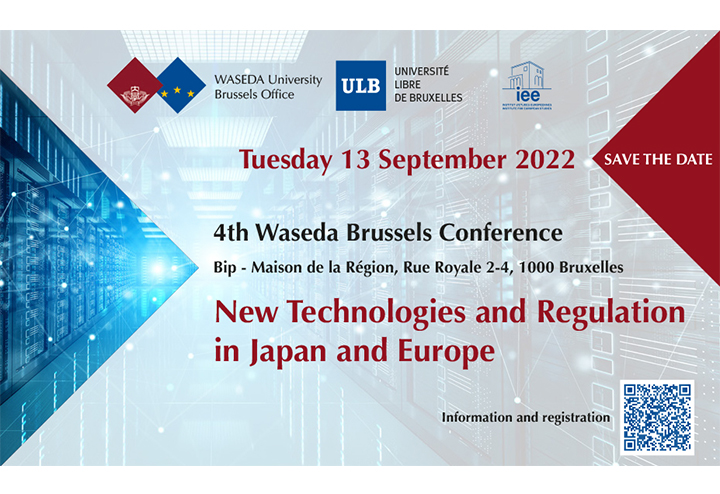 Type of event
International Conference
Location
Brussels, Belgium
Date
13/09/2022
Time
9:00-18:00
4th Waseda Brussels Conference – New Technologies and Regulation in Japan and Europe
When? 13 September 2022
Where? Bip – Maison de la Région, Rue Royale 2-4, 1000 Bruxelles
Register here.
Download the program here.
In 2022, the Waseda Brussels Conference will gather European and Japanese scholars and practitioners for a one-day interdisciplinary conference on a key component of the partnership linking the EU and Japan: the regulatory dialogue surrounding technological innovation.
The conference conveners have selected three crucial challenges currently shaping the wide ranging EU-Japan Science and Technology Relations, notably its ongoing EU-Japan ICT dialogue: (1) the interplay between Artificial Intelligence (AI) and Intellectual Property (IP); (2) the role of transparency and legal safeguards in ensuring the trust in governmental data collection practices; and (3) the cybersecurity implications of emerging technologies. 
For each of these issues the conference foresees a number of interdisciplinary panels involving both European and Japanese experts.
The morning sessions – a scientific panel, a practioners roundtable, and a keynote – will all be dedicated to the legal, regulatory and commercial implications of the growing field of Artificial Intelligence (AI) on Intelectual Property (IP) which are both central to some of the more heated contemporary legal discussions and academic debates. The interactions between AI and IP raises number of regulatory and technical challenges some of which the 2022 Waseda Brussels Conference will address from an interdisciplinary (including legal scholars, political scientists and engineers) and an interregional perspective (involving both Japanese and European contributors). 
Besides the morning sessions devoted to the ongoing debates surrounding AI and IP, the conference will in the afternoon explore some of the security implications of emerging technologies and data collection practices. To this end, it will host two scientific panels, the first of which will delve into the challenges associated with governmental data collection. In the aftermath of the COVID crises governments have significantly stepped up their data collection efforts in pursuit of various policy goals (health, security, migration management, etc.). This trend reflects broader societal changes and is linked to the digitalization of social interactions. The panel will discuss, from a wide range of perspectives, how trust in governments can vary across different national contexts, as well as whether increased transparency and legal safeguards help foster greater trust. 
The final scientific panel of the conference will focus on how emerging technologies, including the internet of things, artificial intelligence, quantum computing or blockchain, impacted cybersecurity. These emerging technologies are opportunities, but also new challenges and threats. The members of the panel will seek to unpack the societal implications of these rapidly developing technologies on the one hand, and the possibilities of regulating the risks and threats created by their misuse on the other.
Registration